Welcome to LearnMarketing.net
Objectives When Starting A New Business
Introduction
When you start a new business you will need SMART Business Objectives. Business objectives can be split into two groups;
Financial Objectives and
Non-Financial Objectives
Lets discuss each of the groups below.
The diagram below divides objectives for new businesses into two groups; financial objectives and non financial objectives.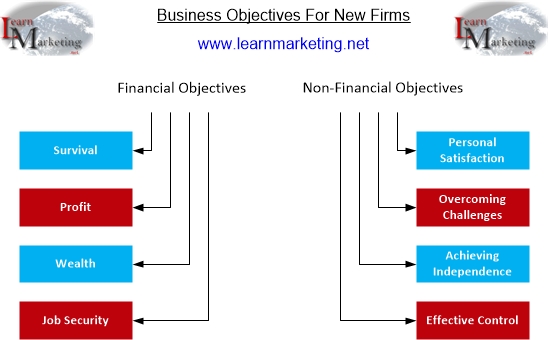 Lets discuss each of the groups below.
Financial Objectives
Survival: When a business first sets up the objective is to survive. This is a very important objective as a large percentage of new businesses close within two years of opening. In order to increase the chances of survival businesses will need to carry out detailed research, analysis and planning prior to implementing any form of marketing including creating their marketing mix.
Profit And Income: In order to survive businesses have to generate an income, this includes businesses that are not for profit. This is because an income (revenue) will provide the business with the funds it needs to carry out its activities. Read this article if you would like more information about cash flow, business costs and revenue.
Wealth: A successful business will generate wealth. Wealth can be used to reinvest in a business to expand and grow, Organisations like Google, Facebook use their wealth to further expand their business interests enabling the business to be further routed and established. For example the wealth generated by Facebook has enabled it to buy the communication application (app) Whatsapp
Security: A full time job gives you security. Setting up your own business is risky and you do not have the guarantee of a stable monthly income as sales will fluctuate.