Welcome to LearnMarketing.net
The Role Of Promotion Within The Marketing Mix
Introduction
Promotion plays an important role within the marketing mix. Promotion must support the other elements of the marketing mix. Without this support the six remaining elements of the marketing mix would not be fully optimised.
This diagram illustrates that promotion supports the other six elements of the marketing mix.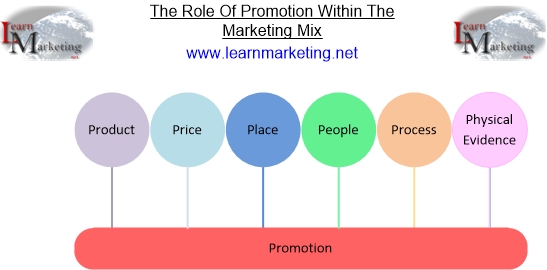 Promotion and Product
Promotions role within the product strategy is to communicate the benefit and unique selling point of the product. Promotion may also focus on the features and packaging that are unique to the product. The aim of promotion is to create a strong enough desire (for the product) to generate a purchase.
Promotion and Price
Promotion may communicate the quality and value of the product. Promotions can also highlight special offers such as buy one get one free (BOGOF), free accessories and discounts.
Promotion and Place
If the product is exclusive and only available in certain stores then the objective of promotion is to inform consumers of where they can purchase the product. Promotion may emphasise that the product can be purchased online, mobile phone or in store.