Welcome to LearnMarketing.net
Buzz Marketing - Coca Cola "Share A Coke" Campaign
Introduction
In this article we discuss Coca Cola's share a coke campaign. During the campaign Coca Cola replaced the distinctive coca cola name on bottles of coke with 250 of Great Britain's most popular names. Coca Cola text was reduced to a smaller font at the top stating share a coca cola with (one of the 250 chosen names). The rest of the branding was left the same so that consumers could still identify the product as coca cola. Consumers were also offered the opportunity to create virtual labels online with their name on them. Virtual personalised labels could be shared with family and friends online.
The photograph below shows an example share a coke promotion photo by Coca Cola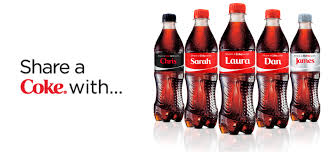 History
In the summer of 2011 the marketing campaign was launched in Australia with 150 popular names. According to http://www.marketingmag.com.au/case-studies/share-a-coke-campaign-post-analysis-15944/ this resulted in
A Buzz on social networking sites – more than 18, 300, 000 media impressions
Young adult consumption increased by 7% making 2011 Coca Cola's most successful summer ever and
According to marketing week Marketing Week the campaign boosted sales by 4% in Australia and New Zealand.
United Kingdom
Share a Coke was launched in the UK in April 2013, according to Marketing Week the campaign resulted in:
An increase in positive brand perception in the UK. YouGov reported that their Brandindex analysis showed Coke's brand rating increase from  minus 5 to 1.9. Brandindex measures positive and negative comments about a brand in the media or through "word of mouth"
A 2.9% increase in retail sales and the volume (number of litres sold) also increased by 2.9% in the 3 months to 23rd June 2013 based on the same period in 2012. Whilst the rate of increase for Pepsi was 1.1%. (IRI data)