Welcome to LearnMarketing.net
Customer Relationship Management
Introduction
Customer Relationship Management (CRM) is about the corporate values and systems (IT and Non IT) which help an organisation manage its relationships with it customers. CRM is supported by technology but technology alone will not result in long term fruitful relationships with your customers. A successful CRM strategy involves effectively targeting customers for your products and providing the products in a manner that customers want; technology alone will not do this. Click here to find out more about how to build long term relationships with customers.
The diagram below illustrates the benefits of Customer Relationship Management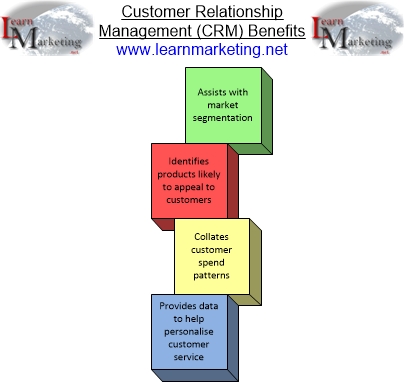 CRM Using Databases
One aspect of CRM is the use of databases or detailed records about your customers. Ideally customer information should be more than a list of names and addresses as you will use it to help you manage your relationships with customers. The customer information held by each business will differ for example insurance companies will record when a customer's insurance should be renewed whilst a supermarket will record what each customer buys so that they can analyse shopping habits. Whilst other businesses will record date of birth so that they can target the relevant age group and carry out relationship building activities such as sending customers birthday greetings.