Welcome to LearnMarketing.net
Customer Services
Introduction
Customer services involves catering for the needs of current and potential customers. This process takes place before the customer transacts with the firm, during the transactional process and after the transaction has been completed. These actions are known as components of customer service, for more information about customer service components look at our Components Of Customer Services Article.
The customer services diagram below has examples of things that make up good customer service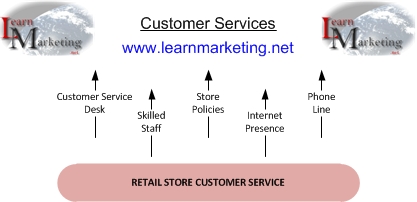 Good customer services are an essential part of a company's strategy particularly if the company wishes to retain customers for the long-term. Customers are more likely to spend more with your firm if they are looked after well. Good customers services can take place in many forms. These include:
Visible Customer Services Desk
Customers should be able to find customer services very easily within a retail store and this desk should always be staffed. This sends out a good impression to customers visiting the store.
Skilled Staff
Staff should have the area of expertise within the section they are working within. Certainly they should know more than the average customer. This builds confidence and trust with the potential customer.