Welcome to LearnMarketing.net
Inbound Marketing
Introduction
Inbound marketing is about trying to attract the right to your business. Its about starting the vetting process early so that you have the profitable and vetted leads at the earliest opportunity. Under inbound marketing you have already formed a relationship with your leads by the time you are ready to sell to them.
There are many ways to attract customers; inbound marketing involves making the most of the channels your potential customers use. For example
Facebook/Twitter and other social media
Youtube
Blogs that provide your target customers with information that is useful to them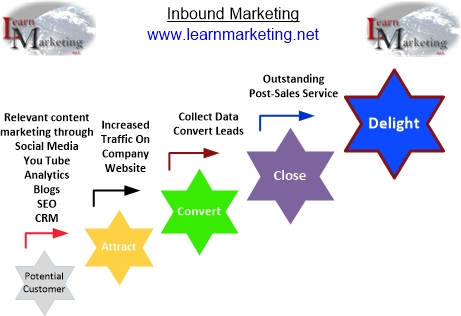 Relevant, Useful And Beneficial Content
Inbound marketing content must be useful and beneficial to the user and add value to their experience. Inbound marketing content does not need to sell to your target market as its primary job is to identify the "right customer".
Inbound marketing must create sales opportunities so you must ensure that it is relevant to your business too. For example a company that sells software could write a blog on the importance of cyber security. At the end of the blog there could be a link that gives the reader information on the types of cyber security software that the firm sells.
Once the customer is attracted to the business there must be a simple method for them to approach you. For example a contact form maybe placed at the end of  an article  or an option to chat to a member of the company online.