Welcome to LearnMarketing.net
Marketing Mix 4Cs
Introduction
We know the 4Ps of the marketing mix as:
Product
Price
Place and
Promotion
The traditional 4Ps marketing mix can be expanded so that it focuses specifically on the customer's needs through the 4Cs marketing mix. In today's competitive business world it makes sense to conduct market research and find out about consumer needs prior to developing a product and setting corporate objectives; not doing so would be to jeopardise the success of your product before you've even sketched out your product design.
The diagram below combines the traditional 4Ps from the marketing mix with the customer focused 4Cs marketing mix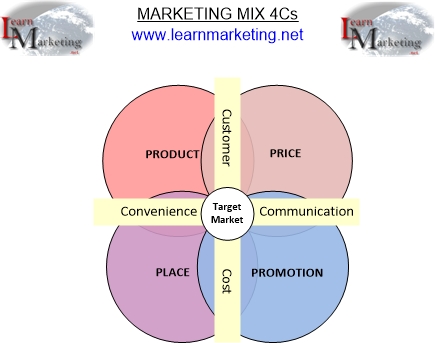 What are the Marketing Mix 4Cs
The marketing mix 4Cs are made up of:
Customer
Cost
Convenience
Communication
Marketing Mix 4Cs Customer
The customer is king and should be central to the product decision making process. Market research is key here. Understand through the use of primary and secondary research what customers want and try to put this need in the centre of the product strategy process. Find out more about the types of issues faced by firms who orientate their marketing around production, sales, the product and the market in our marketing concepts and orientations article.