Welcome to LearnMarketing.net
Product Placement
Introduction
In today's very competitive business environment, firms will try lots of different things to promote their product or service. Product placement involves carefully placing a product in a movie, TV show or video game, with the aim to increase product sales. Manufacturers will pick shows and movies that are likely to be viewed by their target market. Unlike a TV advert viewers will not want to fast forward product placement scenes, as the scenes will be an integral part of the show or movie. People watching promotions they can not fast forward, are known as a "captive audience"..
The different media used for product placement is illustrated in the product placement diagram below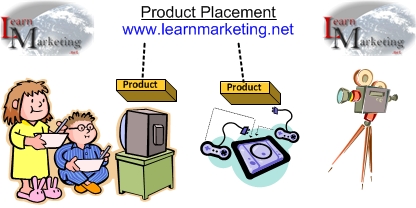 European Union and UK Product Placement Rules
Whilst product placement was widespread in movies it wasn't allowed in UK TV shows until 2007, when the European parliament revised legal rules surrounding product placement in TV shows, broadcast in EU countries. Under the new rules, products can be placed in fictional shows such as drama, soaps and light entertainment. However products can not be placed in factual TV programmes such as documentaries and the news. Product placement in children's shows is also not allowed. Within the UK if businesses have paid to have a product placed in a TV show, the show will have the letter P appearing at the beginning and at the end of the show. The P alerts viewers that firms have paid to have their products placed in the TV show.
Product Placement Types
There are a number of different ways to use product placement including:
- Where the business (product promoter) sponsors the whole show and its logos and name is mentioned throughout the whole show (beginning, end and commercial breaks). The sponsors branding may also appear in the room that the show is filmed in.
- Where the product is used/placed in certain parts of the show but it is not mentioned by the people appearing/broadcasting in the show