Welcome to LearnMarketing.net
BREXIT And The Marketing Mix
Introduction
On the 23rd of June 2016 the United Kingdom held a referendum asking its citizens to vote on whether they would like to remain as a member of the European Union or leave. Fifty two percent of the voters decided that the United Kingdom should leave the European Union. The decision to leave the European Union has been labelled as BREXIT by the media and commentators. Although the United Kingdom has not formally begun the steps to leave the European Union (BREXIT) the referendum's decision has had a major impact on the marketing strategy of many firms that operate within the UK. There are winners and losers in the BREXIT decision. This article will analyse the current impact of BREXIT on the marketing mix of some firms.
The diagram below highlights the impact of BREXIT on the components of Marketing Mix; Product, Price, Place and Promotion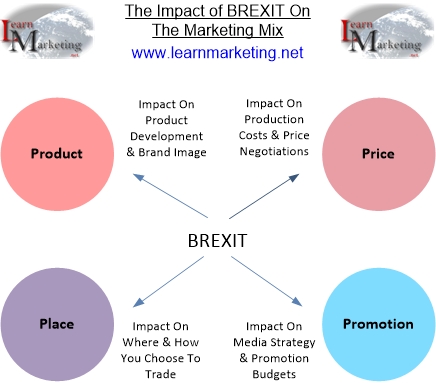 Pricing And BREXIT
Today (24th January 2017) the pound is trading against the dollar at 1.20 which is around twenty percent lower than the same date in 2016 and on the 22nd of June 2016. Although the drop isn't as low as the pound's record low (against the dollar) of 1.05 in February of 1985 the strength of the pound has affected the pricing element of the marketing mix.
Manufacturing firms who pay for their raw materials in foreign currencies such as dollars or euros state that their costs have increased anywhere from 10 - 20% since the BREXIT vote. Firms facing increased purchasing costs need to decide how to absorb the price increases: do they accept reduced profit levels? or do they increase the prices they charge customers?
Tesco And "The Marmite Wars"
In October 2016 Tesco the number 1 food retailer in the UK went "into battle" with Unilever who wanted to increase wholesale prices by around ten percent. Tesco resisted this by halting orders for Unilever products so that many Unilever products such as Marmite, PG Tips, Hellman's Mayonnaise and Comfort Fabric Conditioner were unavailable in Tesco Stores for a little while. Although the situation was resolved very quickly it is an example of the impact that the BREXIT decision is having on the marketing mix of suppliers and buyers and the conflicts that can arise between the two parties. Our LearnMarketing article about Porter's Five Forces Model explains the power of buyers, sellers and other things that affect a particular industry.
Apple's Pricing Decision
Apple have increased the price of their products, their computers, depending on what range you purchase has on average gone up between £100 - £200.
Other Examples Of BREXIT And Its Effect On Price
Other companies that have also announced a change in their pricing strategies include Microsoft, Tesla, Lego, and British Airways.