Welcome to LearnMarketing.net
Components Of Customer Service
Introduction
Good customer service stretches from before the customer purchases the product to after the purchase transaction has been completed. The components of customer consist of the following:
The diagram below shows the three components of customer service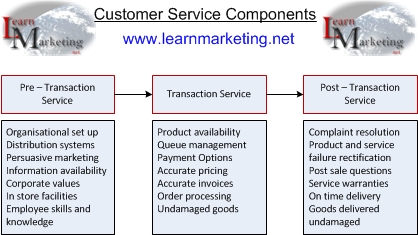 Pre-Transaction Service
The pre-transaction element of good customer service will continually ensure that the firm and its premises, employees and procedures are set up to provide excellent customer service. The firm's systems have to be flexible enough to adequately respond to customer and market needs.
Pre-transaction marketing aims to persuade consumers to visit the firm's retail stores through highlighting store facilities, product features/benefits and promotional offers. It also involves highlighting the firm's ethos, values, vision and policies. For example price match policies, free returns process and ethical values such as fair trade and sustainability.
Once in the store, how can the store welcome and support the potential customer. The retail store environment should make customers feel comfortable so that they want to stay in the store. Research shows that the longer a customer stays in the store, the more money they spend i.e. the length of time in a store directly correlates to the amount of money spent. Retailers go to great lengths to ensure that their stores are set at a comfortable temperature, lighting and even smell (scent marketing). The store should be easy to navigate with prices and information displayed clearly and accurately.
Retailers provide toilets and cafes to ensure that hunger and sanitary needs do not make the customer leave. There are often facilities to entertain children so that their parents can relax and shop with minimal disturbance. For example restaurants will provide crayons and colouring pads at the table and their gardens often have slides, swings and climbing frames, whilst some retailers, gyms and cinemas offer a Crèche . Many shopping centres and eateries now have free wireless internet access (Wifi) in the hope that internet access will encourage people to stay longer and therefore spend more.
Retail employees should make customers feel welcome and facilitate the buying process through excellent customer service skills, product knowledge and store facilities knowledge. Employees should answer customer questions confidently and skill fully demonstrate products if required. Interaction with store employees is often what makes a sale on the day or prevents people visiting a store in the future.