Welcome to LearnMarketing.net
Diffusion Of Innovations
Product Adoption Process
Introduction
Research shows that consumers differ in how quickly they decide to adopt (buy) a product after they become aware of it. Everett M. Rogers' theory Diffusion of Innovation, explores what type of person, adopts products at each stage of the product life cycle. Under Rogers' Diffusion of Innovations theory, a product will encounter five types of purchasers as it moves through its life cycle.
The diagram below explains the categories in Roger's Diffusion of Innovations Theory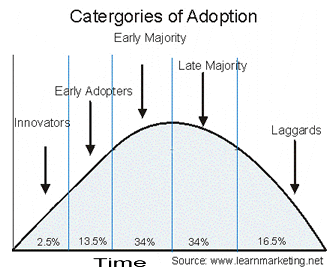 Diffusion of Innovations: Innovator Stage
Roger's Diffusion of Innovations theory states that Innovators are the first to purchase a product and make up 2.5% of all purchases of the product. Innovators purchase the product at the beginning of the life cycle. They are not afraid of trying new products that suit their lifestyle and will also pay a premium for that benefit. Sales to innovators are not usually an indication of future sales as innovators simply buy because the product is new.
Diffusion of Innovations: Early Adopters Stage
The next group of purchasers are called Early Adopters and they make up 13.5% of purchases. This group of purchasers adopt early but unlike innovators, adoption is after careful thought. Early Adopters are usually opinion leaders in their circle (of friends, family and colleagues) so adoption by this group is crucial for the success of the product. Early adopters help the product's journey in becoming "socially acceptable".