Internet Marketing Objectives
Introduction
Every business needs to have objectives which should be SMART. Whether you are an online business or a combined clicks and mortar business, you need to have targets to aim for.
The diagram below lists the digital (internet) objectives of businesses that are online only and firms that have retail shops and trade through the internet as well.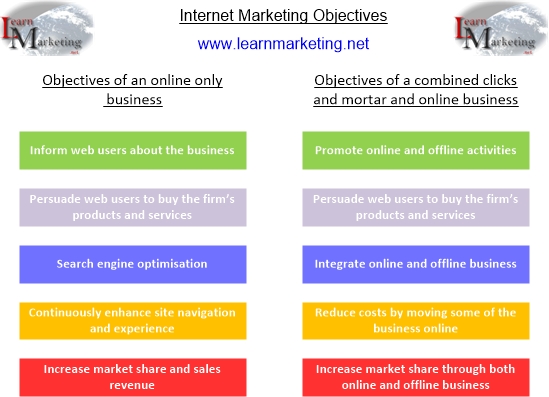 Objects of An Online Business (Clicks Business)
If your business is solely based online your objectives could be:
To inform users of your web presence and the benefits your business offers over its competitors (your USP - Unique Selling Point).
To persuade users to use the services of the firm. This could be done by offering a discount for a limited time.
To make sure the business is listed in most popular search engines and directories (SEO - Search Engine Optimisation).
Keep customers updated about new products and changes to business services.
Make sure that customer have a pleasant website experience by continuously improving the navigation of the site.
To increase market share over a specified period.