WHAT IS MARKETING?
Introduction
The term marketing has evolved over time, today marketing is based around providing continual benefits to the customer following a transactional exchange.
Marketing Definitions
UK based The Chartered Institute of Marketing (CIM) defines marketing as:

'The management process responsible for identifying , anticipating and satisfying customer requirements profitably'
Whilst the American Marketing Association states:
'Marketing is the activity, set of institutions, and processes for creating, communicating, delivering, and exchanging offerings that have value for customers, clients, partners, and society at large'
(July 2013)
Marketing author and academic Philip Kotler defines marketing as:
'Satisfying needs and wants through an exchange process'
Customers will only undertake the exchange, if they feel that their needs are being satisfied, clearly the transactional value can not be more than the amount customers are prepared to pay to satisfy their need.
And P.Tailor of www.learnmarketing.net suggests that:
'Marketing is not about providing products or services it is essentially about providing changing benefits to the changing needs and demands of the customer (P.Tailor 7/00)'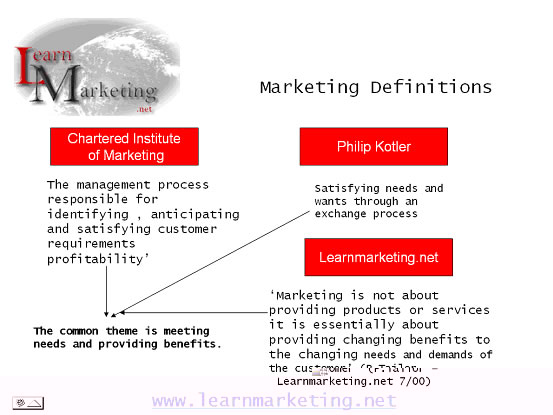 Marketing is the job of the marketing department?
If we look at CIM's definition in more detail Marketing is a management responsibility and should not be left to a specific department or person. In fact everyone that works for or represents a company is responsible for marketing, as their actions contribute towards the company's reputation and success..
What does marketing involve?
Marketing requires co-ordination, planning, implementation of campaigns and employees with the appropriate skills to ensure marketing success. Marketing objectives, goals and targets have to be monitored and met, competitor strategies analysed, anticipated and exceeded. Through effective use of market and marketing research an organisation should be able to identify the needs and wants of the customer and try to deliver benefits that will enhance or add to the customers lifestyle, while at the same time ensuring that the satisfaction of these needs results in a healthy turnover for the organisation.
Marketing Definitions Powerpoint Presentation


Conclusion
As we have seen Marketing is more than promotion. To truly satisfy customer "needs and wants" you should begin the marketing process at the research stage so that you can find out what customers want and need. After research you can begin product development, which is followed by product distribution, product promotion and sales. Finally product sales should be followed by research to assess the marketing success. To learn more about marketing click here to access the Marketing Mix.