Welcome to LearnMarketing.net
Relationship Marketing And The Internet
Introduction
Relationship marketing is all about keeping the customer for the long-term so that you can benefit from the life time value the customer has to offer. Traditional firms (or bricks and mortar businesses) have established strategies to encourage customers to visit their stores again and again. With an ever increasing use of the internet, an online presence is essential. Online websites create new challenges when it comes to relationship marketing, especially as through the click of a button customers can move onto competitor websites. Below we discuss some of the strategies firms use to develop long term relationships with customers through the internet.
The Diagram Below Summarises Relationship Marketing Through The Internet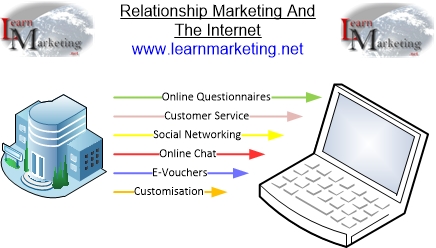 Social Networking
Social network strategies are an essential part of relationship marketing. Many firms have a business profile on popular social network sites like Facebook. Consumers are encouraged to join the firm's social network group/profile through things like only allowing competition entries to social network members. Once consumers have joined the firm's social network group the firm has valuable information about the consumer (through the consumer's profile information) which can be used for relationship marketing.
Customisation
Some websites offer customers the opportunity to customise their products online and view how they would look if purchased. This not only provides a unique experience but encourages the customer to develop an attachment to the product they have customised. Shoe manufacturer Nike and car manufacturer Mini Cooper allow their customers to customise their products when visiting their website.