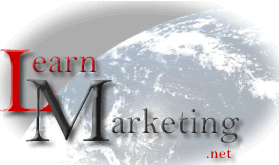 For Marketing Learners Globally
Home | Marketing Lessons | Marketing Exercises | Marketing Online Quiz | BTEC National Marketing (UK) | Marketing Glossary | |Marketing Powerpoints | Marketing Cliparts | Educational Links | Newsletter | Virtual Lectures | About Learn Marketing | Contact | British Bookstore|
---
What is Marketing Exercises Answers
Read about Marketing Definition here | View a powerpoint slide Marketing Definitions | Take a excercise here
What is Marketing?
Scenario:
As the new Marketing Manager for LM Ltd, a newly formed PC Manufacturer, you plan to give a talk to the rest of the management team about meeting customer needs, and discuss with them what marketing is about.
Exercise:
If you were delivering the speech what would you cover? List some points.
Answers
1. Marketing is about providing benefits not products/services.
2. The benefit LM Ltd products offer to their target market.
3. The importance of continuous research to meet consumer needs.
4. The importance of understanding competitors and competitor products.
5. The importance of understanding the industry and industry trends.
6. The importance of managing differentiation and positioning.
7. The importance of after sales services in the computer industry.
Studying Management? Visit www.learnmanagement2.com

Further reading:

Principles of Marketing by Philip Kotler

Principles of Marketing by Frances Brassington