Welcome to LearnMarketing.net
Green Marketing
Introduction
The term Green Marketing has evolved from ethical marketing and environmental marketing. Green marketing is about how an organisation develops its strategy to take into account growing political and consumer concerns about the environment.
Environmental concerns focus on a number of environmental issues including carbon dioxide levels, the dangers of diesel on health, sustainability and climate change. UN (United Nations) endorsements of scientists' findings and legislation passed by government organisations such as the EU (European Union) has encouraged many firms to migrate their strategy towards Green Marketing.
How Do Governments Implement Green Strategy
Governments may encourage firms and consumers to adopt "green" actions by offering grants to implement "green" initiatives. In the UK for example the government was funding the "Green Deal Scheme" which provided homeowners with money to make "energy saving" home improvements.
In some countries targets and sanctions are laid down by central and local governments to ensure "green" targets such as recycling are met. The European Union will fine member states who do not meet "green" targets for things like renewable energy, recycling and air quality.
The diagram below distinguishes between a Linear Economy and a Circular Economy which firms may decide to use in their green marketing strategy.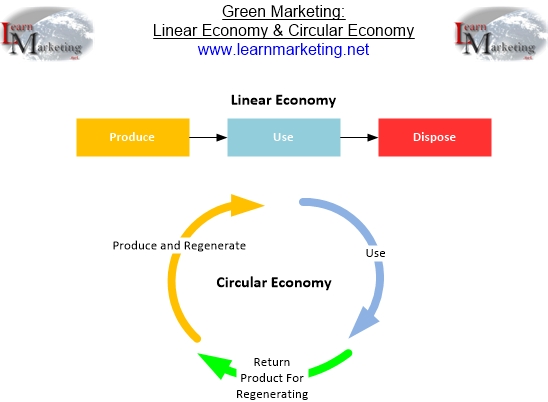 National Governments Response to Diesel Cars
It has been established that Diesel is a dirty fuel with high levels of nitrogen which is increasing asthma complaints and causing thousands of deaths around the world. Government's around the world are trying to deal with this pollutant from cars.  In April 2016 the Dutch parliament supported an initial proposal to stop the sale of petrol and diesel cars  by 2025. Consumers who already own a petrol or diesel car will be able to use their cars but any new vehicles will have to be  electric or a hybrid.  In New Delhi India the sale of large diesel cars are banned,and in Oslo Norway, there are plans to ban all private cars from the city centre by 2020.  These  changes will force  car manufacturers to think of developing greener products in order to remain competitive.
The Car Industry And False Test Results
There have been complaints that car manufacturer Volkswagen has been cheating diesel emission tests; making out its cars were giving out lower nitrogen levels then was the case and stating its cars gave higher miles per gallon than they actually were. This has resulted in consumers who wanted to be green left with cars that pollute and damage the environment.  And in April 2016 Mitsubishi Motors has admitted falsifying fuel economy data for more than 600,000 vehicles sold in Japan - "tricking" green consumers who felt they were doing their bit for the environment.
The Car Industry' Green Revolution
The car industry globally is going through a green revolution  Along with established companies like Ford, Toyota, General Motors who have introduced electric cars, new entrants such as Tesla, Google, ( and rumours of Apple entering) are all working on  electric cars or driver less electric cars.
Electric cars seem to offer the piece of mind that green consumers need when they sit and drive their cars. Tesla is currently ahead of the game and they are offering the first mass produced electric car for sale. Already Tesla has taken orders of 400000 for their model 3 electric cars at $35000 each the car is in well reach of the average family, and if Tesla can fulfil the orders of the model 3  it will net them $14bn,  and at 215 miles per charge they are currently streets ahead of established manufacturer rivals.
All the above factors help the green consumer shift their buying patterns and help them become green consumers.