Marketing Mix
Place and Distribution Strategies
Introduction
This refers to how an organisation will distribute their product or service to the end user. The organisation must distribute the product to the user at the right place at the right time. Efficient and effective distribution is important if the organisation is to meet its overall marketing objectives. If an organisation underestimates demand profitability will be affected.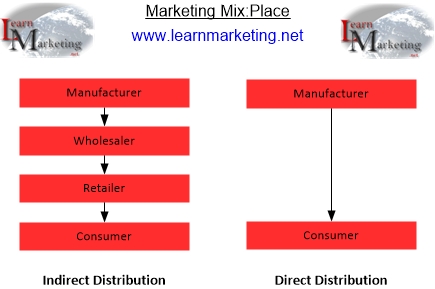 Indirect Distribution
Indirect distribution involves distributing your product by the use of an intermediary for example a manufacturer selling to a wholesaler and then on to the retailer.
Direct Distribution
Direct distribution involves distributing direct from the manufacturer to the consumer For example Dell Computers providing directly to its target customers. The advantage of direct distribution is that it gives a manufacturer complete control over their product