Welcome to LearnMarketing.net
Research Planning
Introduction
It is very important to plan research. You can not undertake effective research without planning the process and setting yourself clear objectives. The research process has nine stages. Lets discuss each one.
The diagram below shows a process map for the research planning process.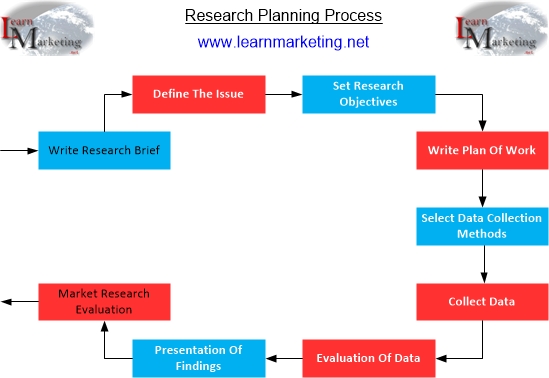 Write a Research Brief
This sets out what is to be researched. For the purposes of this article our research brief will be look into the demand for 8K televisions.
Define The Issue
At this stage it is important to go into more detail about the research. So, for our 8K TV research we may specify the target market to be researched, what the demand maybe, and whether there is long term viability for 8K.
Set Research Objectives
Any project including research projects needs to have objectives. Objectives that are set should be SMART. Read LearnMarketing's article about SMART Objectives. It is important to set research objectives so you know whether those objectives can be met. So with our 8k TV the objectives maybe to find out whether there is a market for 8k TV and to research the number of 8K developers within the market.
Research Proposal and Plan of Work
When researching it is important that you have a plan of work. A plan of work aids a firm in setting objectives and helps them with timing. You have to also plan the data that needs to be collected, decide the main primary research methods that best suit your research objectives, also plan your secondary research. The research maybe taken from internal records. You also need to decide the target audience for your research and the sample size.