Welcome to LearnMarketing.net
International Marketing
Introduction
International Marketing is any marketing which supports business activity, in a country other than the one that the business is located in.
The International Marketing Diagram below
- summarises the reasons why you may want to implement international marketing
- contains a template for an International Marketing Pest Analysis and
- lists the things you should consider before entering International Marketing.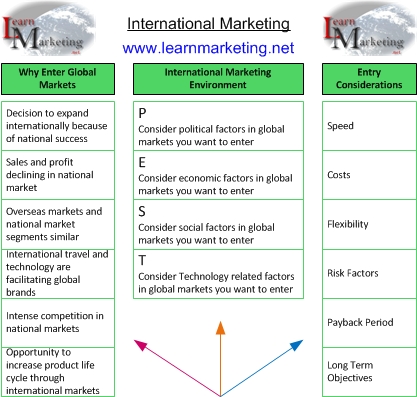 Definition Of International Marketing
If we refer back to Learn marketing's definition of marketing :
"Marketing is not about providing products or services it is essentially about providing changing benefits to the changing needs and demands of the customer "
International marketing enables businesses to provide benefits (in the form of products and services) to consumers around the world. International marketing activity may be tailored specifically for each country; this is because 'needs and demands' of customers in one country may be different from 'needs and demands' of customers in another country.