Welcome to LearnMarketing.net
Market Research And The Internet
Introduction
The internet or world wide web is a great tool for businesses undertaking research. Market and Marketing Research are both essential tasks for companies wanting to stay ahead of the competition; the internet contains a wealth of information to help them do their research. Primary Data can be collected via clever use of online surveys and the internet contains many websites providing Secondary data. The internet can save companies valuable time and money by proving information at the click of a button. The important thing is to have an understanding of the type of information available and how to access it.
The Diagram below shows how the internet can be used to carry out market research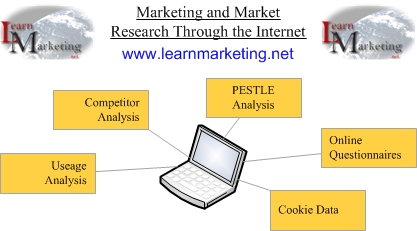 Online PESTLE Analysis
Every business needs to conduct an analysis of their marketing environment and PESTLE. The internet enables an organisation to monitor their external environment relatively easily. Firms can gather information through search engines such as Goggle, Yahoo and MSN. RSS feeds from news websites keep companies updated with news developments as they occur. Online forums and blogs (web logs) contain people's opinions on an endless list of subjects. Research can be found on the internet from organisations such as Mintel who conduct market research about consumer trends or Which who research and test consumer products and services.
Competitor Analysis
The internet allows companies to research Competitors and analyse their Marketing Mix Strategy. Many businesses have websites about the firm, these websites contain information useful for competitors. A firm's website will usually have a detailed list of their products and often the price they are charging. Business websites also reveal information about how a firm is promoting its products and services. You can also obtain financial reports showing how a business is performing, through the firm's website or another website which charges for providing users with company financial reports.
Online Questionnaires
Online questionnaires are a simple form of Primary Research. When a internet user visits a website containing online questionnaires, a message will appear asking the user to participate in an online questionnaire. The questionnaire will ask the user about their opinion on the company, its products, its websites and the market in which the company operates. To encourage user participation online questionnaires are usually short and simple to complete. The data collected from online questionnaires will be analysed and used to develop marketing strategy.